Happy Thursday Middle School Parents/Guardians: Below are a few updates/reminders. Yearbooks are still on sale for $35.00. After Spring Break the cost will $45.00. We only have a limited number of copies. Students may make a down payment to secure their book. Get yours today! Students may wear green and dress down for St. Patrick's Day. We are asking for a $1.00 donation to support student activities. We are proud to present our Spring Curriculum Night on Thursday, March 23, 203 5:30 - 7:30. Come here from updates and have some fun in the classrooms. Food will be served.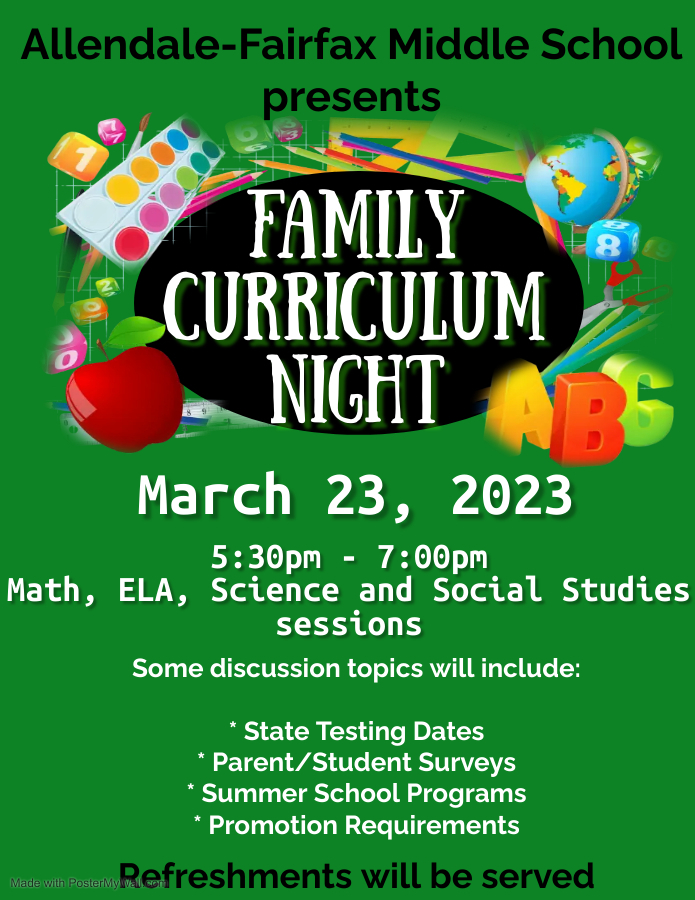 ​Hosted by the Original Six and University of South Carolina Salkehatchie!! Come out for a day of family fun and celebration in Allendale! All In Allendale will feature hands-on STEM activities, story corner, giveaways, a live music performance by the Allendale-Fairfax Concert Band and a hot dog lunch while supplies last!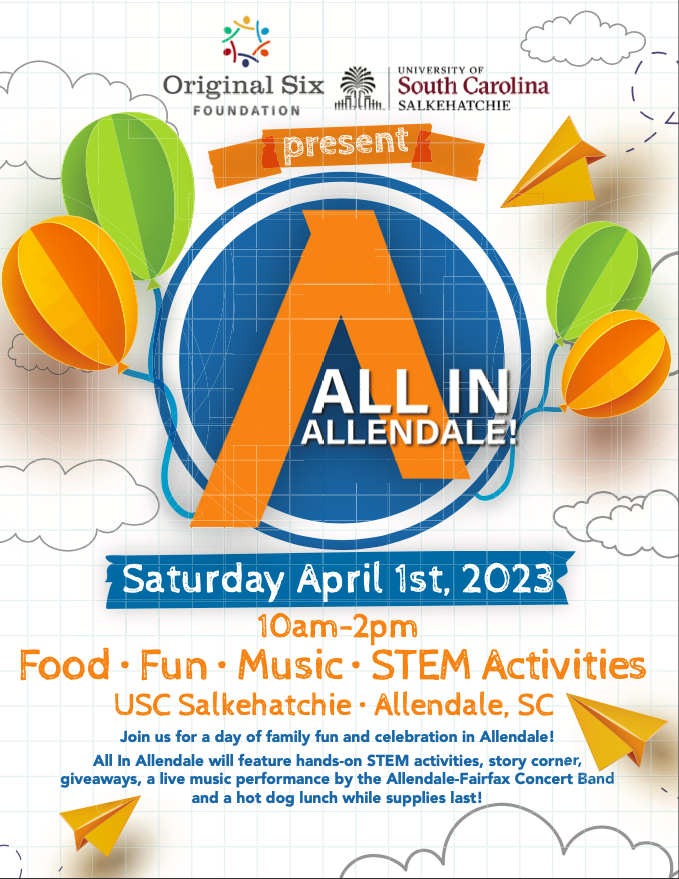 Middle School Parents/Guardians: Summer Learning letters went home with students today. Students in danger of being retained have been recommended for the Accelerate Pathway. Other students have been recommended for the Create or Stimulate Pathways based on their interests. Please take a moment to review the letter and contact the school if you have any questions.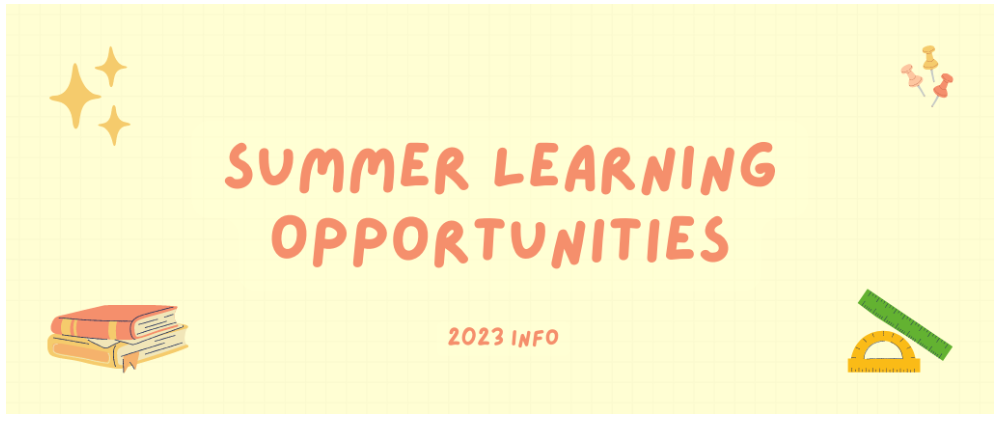 Hello Middle School Parents/Guardians: We want your input on the 2023 Summer Learning opportunities for students. Complete a brief survey by Friday, February 17, 2023. Visit our school website @
https://afms.acs.k12.sc.us/o/afms/article/1003016
and click on Parent Survey.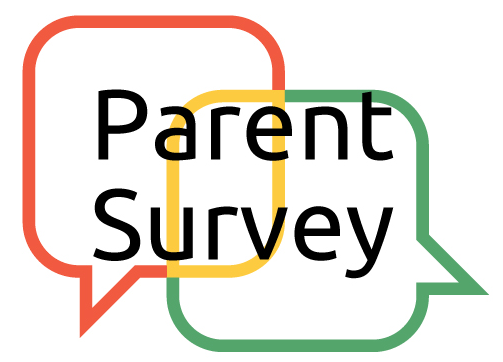 Happy Friday Middle School Parents/Guardians: After school tutoring letters went home today with select students. Ask your students did they receive one! Tutoring starts Monday, February 6, 2023. See the letter for more information. If your student did not receive a letter and you are interested in this extra layer of support please contact the school. Note: Transportation home is available to all after school students. Also, yearbooks are on sale now. The cost is $35.00. Students may pay deposit to hold their copy. They are selling fast so get yours soon!


Happy Friday Middle School ​Parents/Guardians!! Reports cards go home (today) Friday, January 13th. Contact the school to schedule a conference as needed. Monday, January 16th is a student and staff holiday. School resumes on Tuesday, January 17th . Awards Day will be held on Tuesday, January 24th at 9:30 am in the AFMHS Gym. Student and parent invitations will come home next week! Have a great weekend!! Administration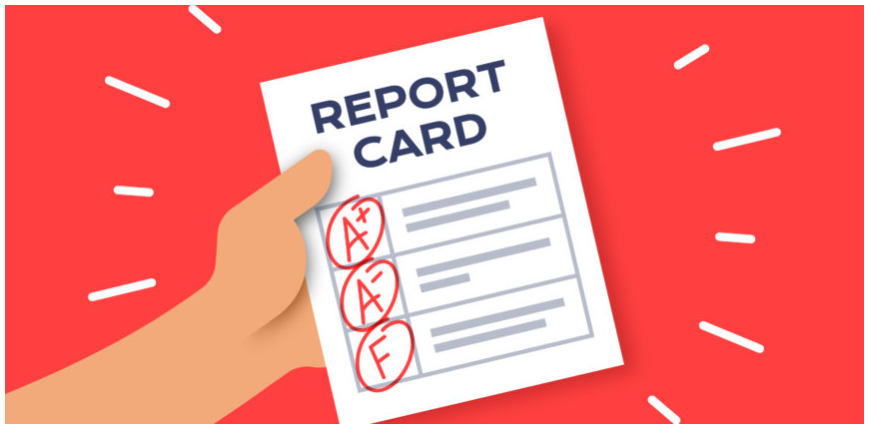 Happy Tuesday Middle School Parents/Guardians: Report cards went home Monday, October 24, 2022 with those students whose parents/guardians did not make it to parent teacher conferences night Thursday, October 20th. If your child failed any subject on their report card, please contact the teacher for information about how your child can recover their grade for the 1st quarter. After school tutoring in English Language Arts, math, and 6th grade science is available 3:30-5:30 Monday-Thursday with available transportation. Note: If your student does not have homework each night, they can always work in their customized learning paths in iReady. Each student is required to have 1 hour of active participation in their learning paths for math and reading plus pass 2 lessons in each of the subjects weekly. Many students are behind in the number of lessons and time they should have by now since the first week in September. Please help us keep students on track with their learning. Stop by the school to learn more about how you can help monitor iReady.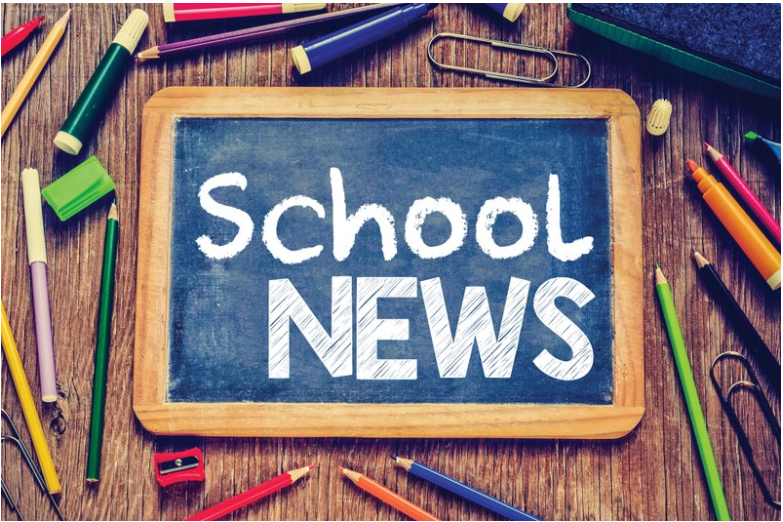 Allendale-Fairfax Middle School additional Updates: Yearbook picture retakes will be on Friday, November 4, 2022 from 9:30 am until 1:30 pm. This retake day is only for students whose parents were dissatisfied with their pictures after viewing the proofs online and for those faculty/staff who missed the previous picture days. Students participating in retakes will be allowed to dress down but must change into their uniform afterwards. There will only be a select number of yearbooks to purchase this year so be on the lookout for when you can preorder yours! PSAT for 8th graders has been rescheduled for Tuesday, November 1, 2022.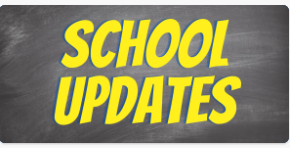 ​Happy Wednesday Middle School Parents: Thursday, October 20, 2022 is an Early Release Day for students. Dismissal will be at 1:15 pm and students may dress down. Right before dismissal we will celebrate teachers and students for our AMAZING School Report Card Score. We're inviting all parents to pick-up Report Cards and talk with teachers from 2:15 pm until 5:15 pm. See you then!

Good evening Tiger Community! This is a friendly reminder that Saturday School will be held this Saturday October 8, 2022 from 9 a.m. to noon. Saturday school will continue on select Saturdays through the end of this school year. For those select dates, please view the flyer below. For any additional questions, please contact your student's school administrators.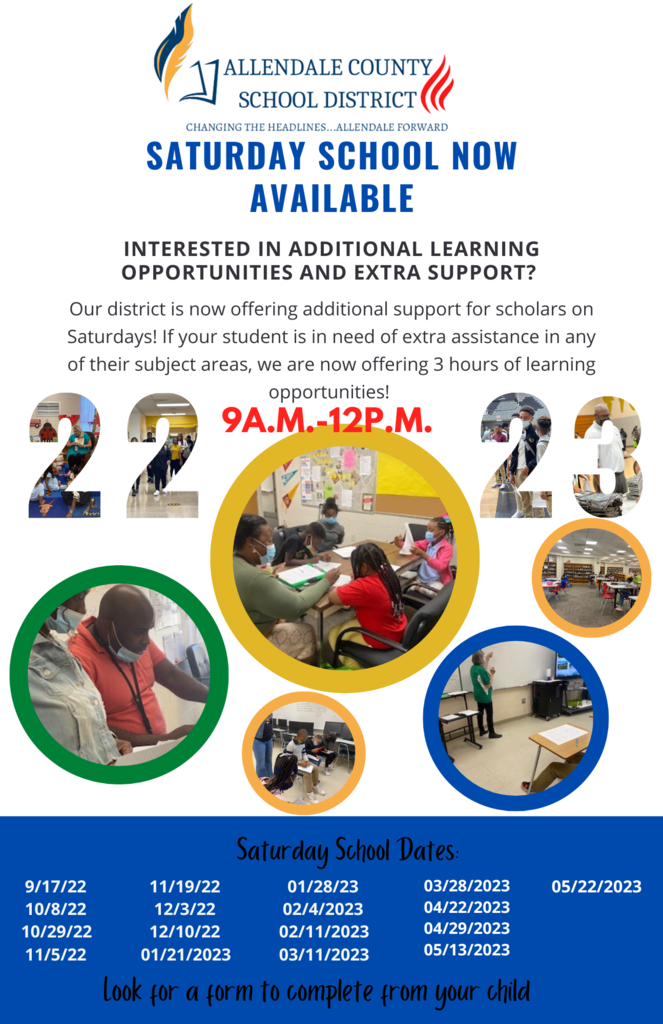 Fairfax, SC, SEPTEMBER 28, 2022- South Carolina has the potential to receive hurricane-force winds & heavy rainfall from Hurricane Ian. Out of an abundance of safety for our staff & scholars, all schools & district office will follow this schedule for Thursday & Friday: All schools & district office will be closed Thursday September 29, 2022 & Friday September 30, 2022 & will move to eLearning (Virtual Learning). All after-school activities are cancelled for Thursday & Friday. All schools will resume face-to-face instruction Monday, October 3, 2022. Please continue to check local news stations, Allendale County Schools website & social media for updates. Please remain safe.

Greetings Tiger Community! We welcome you to join us next Thursday & Friday for our homecoming festivities! Enjoy a warm bonfire at the stadium on 9/29/22 at 7p.m. & our annual homecoming parade on 9/30/22. See flyer for additional details.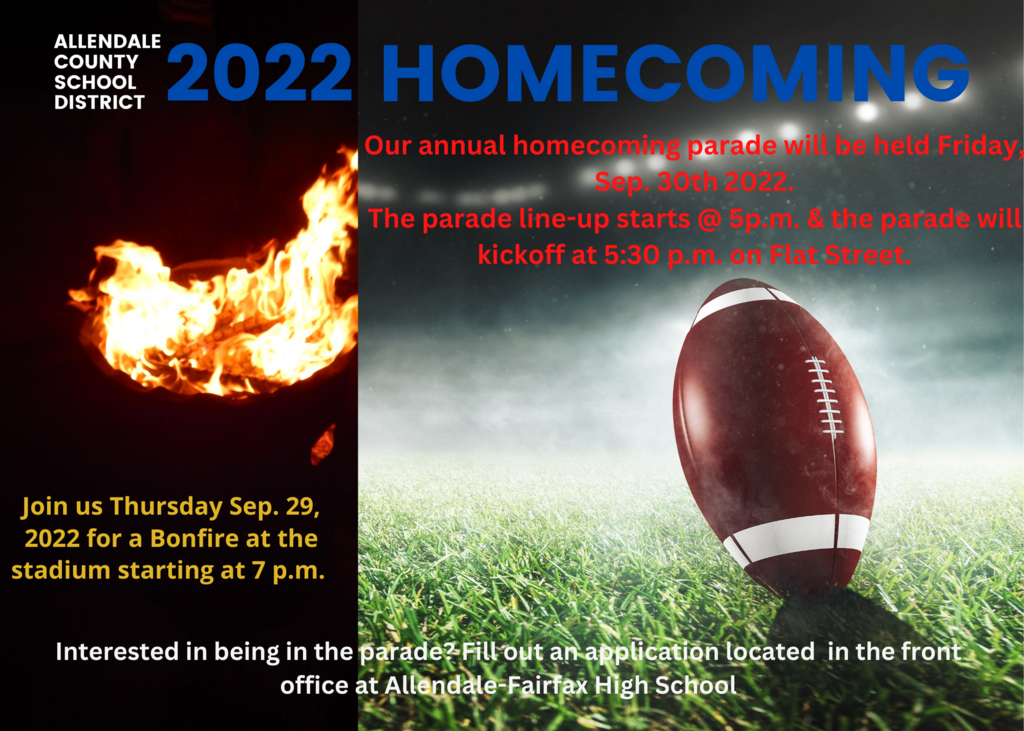 Happy Wednesday Middle School Parents! Don't forget to join us for Open House on today Wednesday, August 31, 2022, from 5:00pm until 7:00pm. There will be raffles, food & fun! Come hear about Spring state assessment results & iReady updates, plus learn about our NEW School Theme. Teachers have some exciting activities planned for your visit. Students will receive a 100 homework grade for attending!

Good afternoon Community, This a friendly reminder that our first School Board/Community Meeting of the 2022-2023 school year will be tomorrow, Monday August 22, 2022 ​at 6p.m. in Allendale-Fairfax High School gymnasium. Please join us to receive the latest updates from our Superintendent Dr. Margaret Gilmore & school board.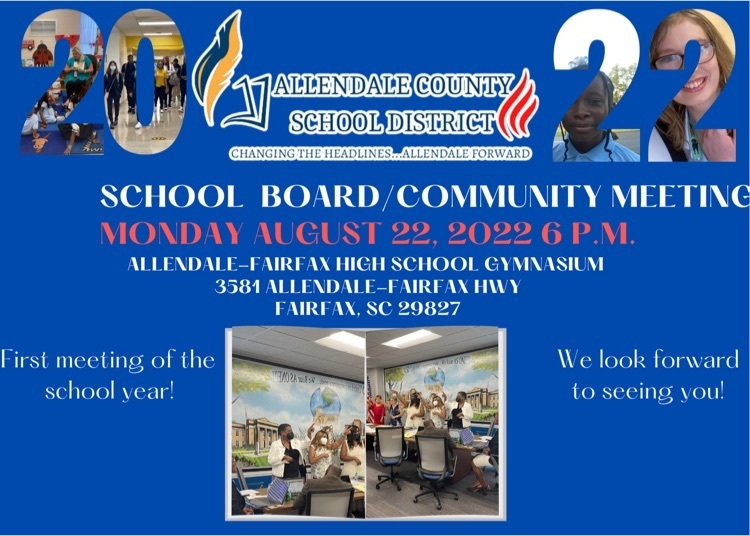 Open House Wednesday, August 31st 5:00p - 7:00p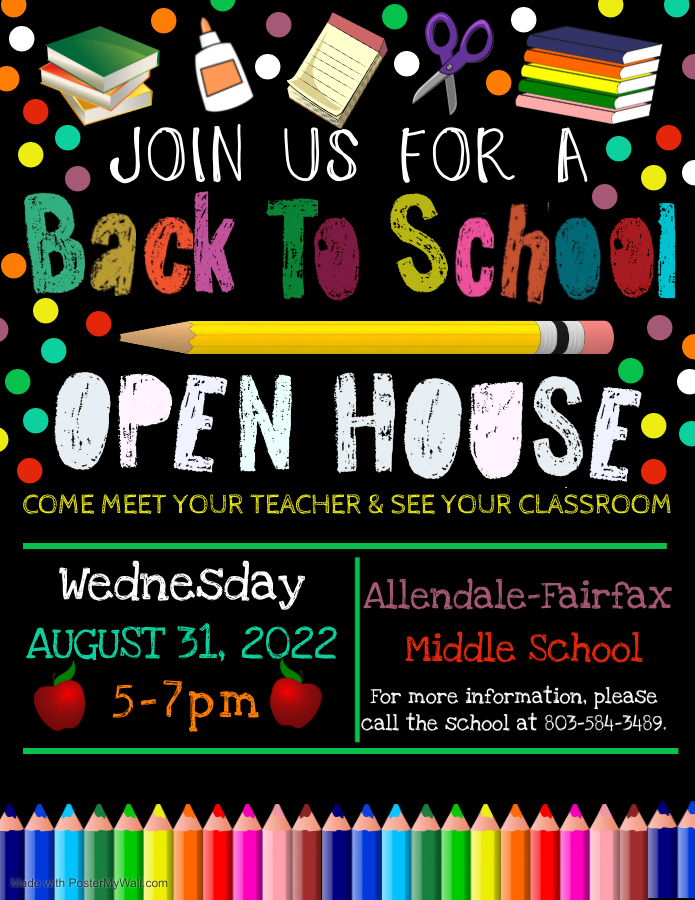 Good afternoon Community, It is a Marvelous Monday at Allendale County School District! We are pleased to announce that our first School Board/ Community Meeting of the 2022-2023 school year will be Monday August 22, 2022 ​at 6:00 p.m. in Allendale-Fairfax High School multipurpose room located at 3581 Allendale-Fairfax Hwy, Fairfax, SC 29827. Please join us to receive the latest updates from our Superintendent Dr. Margaret Gilmore and school board members.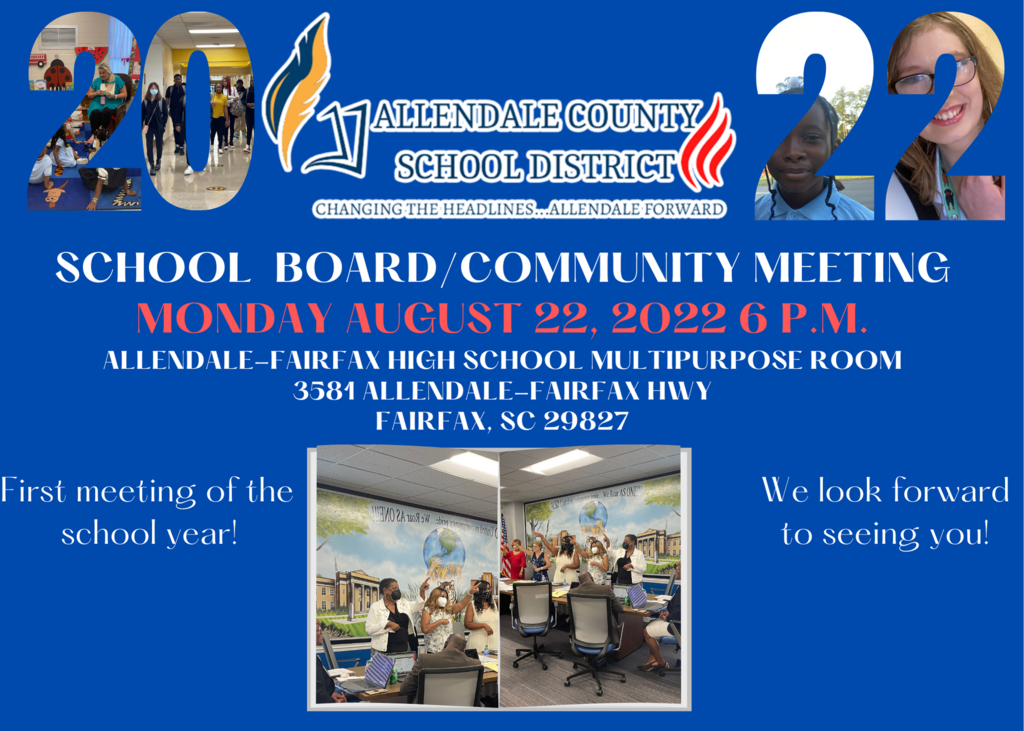 Good morning Tiger Community, Please help us prepare our scholars for i-Ready testing starting tomorrow, August 16, 2022 and ending on August 23, 2022. We want to ensure students perform their very best on these assessments. See our website or social media for more details.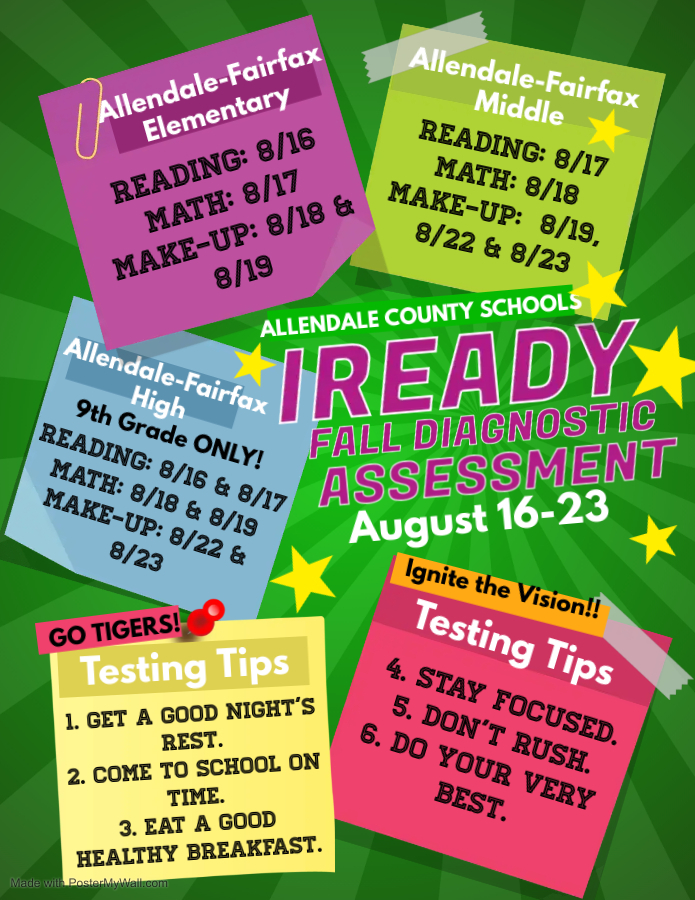 Good morning Tiger Community, The Allendale Community has graced our scholars once again! We encourage you to enjoy the Back-to-School Bash & Splash School Supply Giveaway sponsored by Step by Step Events, Coroner Renique Riley-Spiller, Mayor Dorothy Riley, Councilman Orlando Spiller and Nazarene Baptist Church! The giveaway will take place on Saturday August 13, 2022 at 1214 S. Hampton Ave. Fairfax, SC 29827 and will start at 11a.m. Bring students out to enjoy free food, supplies, waterslides, music and more!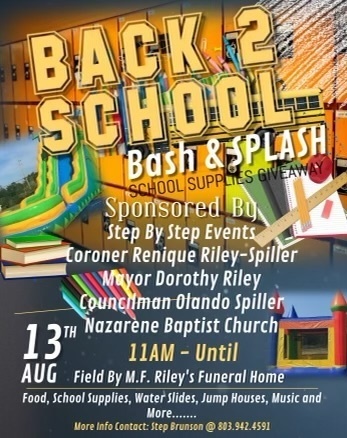 Greetings Tiger Community! Join us on August 12, 2022 for the 2022 Rumble in the Jungle Jamboree to be held at the Jasper County School District sports facility. Our Allendale-Fairfax Tigers will be in the 4th game that will start at 8p.m.Tickets may be purchased at the gate or at the link below:
https://gofan.co/p/E610941056164218516556B2299A380D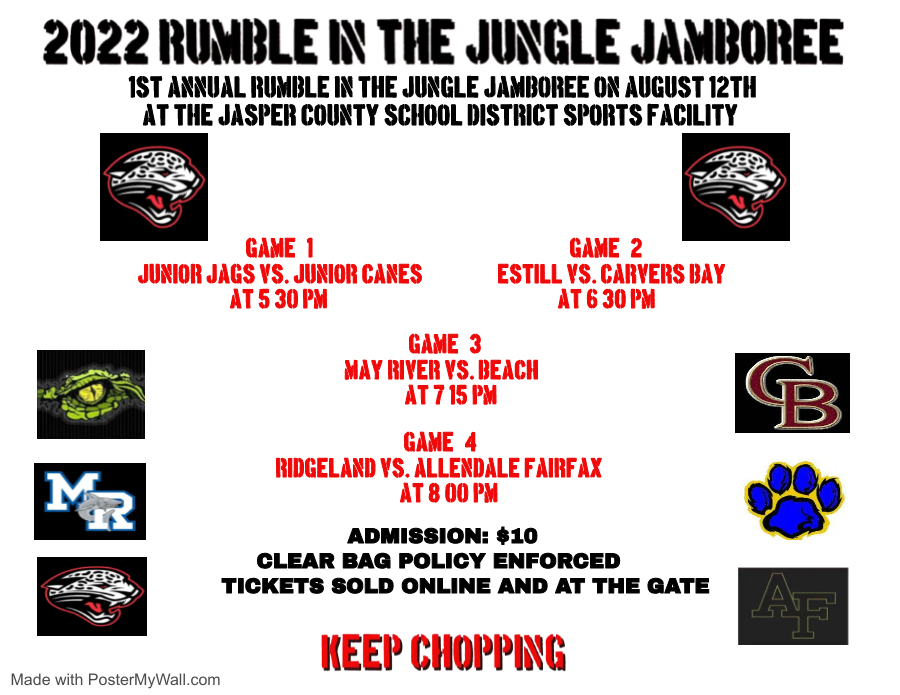 Chief Wiggins is making Allendale Community safer for our scholars and staff!Please join us for National Night Out sponsored by Allendale Police Department. 6p.m. - 8p.m. located at 137 Pleasant Street E. Bring your children out to enjoy ice cream, popcorn, hotdogs, hamburgers and listen to the vision Chief Wiggins has to keep our community safe.